How to Play Online Casino Slots – Find the Answers to All Your Questions in Our Guide
One of the most, if not the most popular online casino game is playing slots. Why is it so popular? It might be something to do with the many fruit machines we've all become so familiar with as they can be found in some of the most everyday places. Not so many of them around nowadays but many of you reading this will remember not so long ago when you could spend a few pennies at the local arcade on the fruit machines without anyone batting an eyelid. Things have come a long way since those days and the number of online casino slots to choose from is up there in the hundreds. Which of course makes it all just a little more complicated for anyone just starting to play. Casino slots online come in a range of different shapes and sizes so let's start there with a look at some of the most common online slots.
What are the best online casino slots to play?
This is almost an impossible question to answer because it really depends on what you are looking for and what you want to achieve when you play online casino slots. A better question to be asking, for anyone just starting out, would be "What are the different types of slots games to be played online?". There are actually quite a few and vary in degrees of difficulty.
Best Online Casinos to Play Slots
| Rank | Casino | Top Games | Bonus | Software | Mobile APP | Visit Casino |
| --- | --- | --- | --- | --- | --- | --- |
| 1 | 888 Casino Review | Elvis, Zeus, Ultimate Genie, Pirates Millions, Casino Reels, Dino Jakcpot Stampede | £888 No Deposit Bonus | Electracade, 888 Gaming, GamesOS/CTXM, IGT | yes | Get Your Bonus 888 Casino Review |
| 2 | Ruby Fortune Casino Review | Jurassic World, Beautiful Bones, Fortune Girl, Empor of the Sea, Fruit vs Candy, Classic 243 | €750 FREE Welcome Offer | Microgaming | yes | Get Your Bonus Ruby Fortune Review |
| 3 | Jackpot City Review | Live Blackjack, Live Baccarat, Live Roulette, Agent Jane Blonde, Cash Splash, Hitman | $1600 Free Sign-Up Bonus | Microgaming | yes | Get Your Bonus JackpotCity Review |
* T&C's apply; Click on Get Your Bonus for details
3-reel slots
The simplest slots online casinos offer are 3-reel slots. Also referred to as a single line slot machine or one-armed bandit, it's the best online casino slots to play if you're a beginner. The game features three reels, (who'd have guessed?), with a variety of symbols. The RNG (Random Number Generator) randomly stops the reels when you've clicked spin, and three symbols will be displayed in the payline. The maximum wager is usually three coins per spin.
Video slots/ Multiple reel slots/ 5-reel slots
This online slots game is a step up from 3-reel slots as it features sounds, images and graphics that are more attractive and sophisticated and designed to make playing casino slots online far more enjoyable. The reels have a variety of symbols, just like 3-reel slots but in this version of casino online slots there's more than one payline. Some versions have as many as 100 paylines you can choose to bet on. The advantages to be had from playing this as opposed to 3-reel slots include a range of bonus rounds, multipliers, free spins and what to some must feel like an unlimited number of betting options. These are the two most common types you can choose from if you want to play casino slots online. Another type that's worthy of a mention are the Progressive slots offered by many of the big games developers. The games are offered at a number of the best online casinos for slots and a percentage of every bet made goes towards a jackpot that's spread across them all. Hitting the jackpot in this type of slots online casino is pretty rare and you often have to bet the maximum amount which makes them rather expensive. But there have been winners and the jackpots can run into thousands of dollars before they're hit. The best casino slots online winner to date won a staggering $22,974,400.
Online casino slots jargon
Before we delve too deeply into the world of playing online casino slots it's going to be the perfect time to introduce some of the jargon. You'll need to understand it before you wager and spin the wheels.
Active Payline – the line that's in play and the one that determines whether there will be a payout. If an online casino slots game has multiple paylines you get to choose how many are active on a spin
Auto Play – an option you can choose if you want the wheels to spin automatically in succession, a number of times, without the need for pressing a button or pulling a lever
Bet Max – betting the maximum number of lines and the maximum amount per line
Bet Per Line – the amount of the stake per line which when multiplied by the number of active paylines determines the total bet per spin
Bonus Feature – some games have these and they are triggered randomly, based on a certain combination of symbols

Min. Deposit:

€10

Payout Ratio:

97%

Rating:

5/5

Min. Deposit:

£5

Payout Ratio:

94,68%

Rating:

4/5

* T&C's apply

Classic Slot – a traditional kind of slot game that usually features three reels and only one payline
Coin Size – a measurement for the amount bet on each spin, the size of which determines how much a coin is worth
Fixed Jackpot – the payout is the same, as in a fixed amount
Free Spins – you won't have to pay for these spins, but you'll get to keep the winnings
Hit – refers to a winning spin
Loose Slot – a slot game with a high payout percentage
Multi-Line Slots – games with more than one payline
Multiplier – usually a symbol that multiplies the payout from any winning combinations it appears with
Pay-line – this is the line that goes across the reels in which the symbols must appear in a winning combination for you to receive a payout. The line is generally one across the center of all the reels, but it could be more than one line or one that goes in a different direction
Payout Percentage – all the stakes that a slot will pay out over time
Pay Table – displays all the winning combinations and the relative payouts
Reels – in video and slots the reels are virtual equivalents of the rotating barrels on which the symbols will appear
Scatter – when winning symbols don't necessarily have to appear on an active payline to result in a win but could simply be in view it's referred to as a Scatter
Stacked Wilds – a number of wild symbols stacked one on top of the other on a single reel
Tight Slot – an online slots casino game with a low payout percentage
Wild Symbol – this is a symbol that can be swapped for other symbols to create a winning combination
With all the right words logged in your head it's time to move on to playing the game.
Other Online Casino Games
Game
Types
Most Played Where?
House Edge
Sandart
Deviation
Recommended Casinos
Roulette
American Roulette, European Roulette, French Roulette, Multi-Ball Roulette, Multi-Wheel Roulette, Live Dealer Roulette, Spingo

DE

CH

AU

2.70%
e
Ruby Fortune Casino Ruby Fortune Review
BlackJack
American Roulette, European Roulette, French Roulette, Multi-Ball Roulette, Multi-Wheel Roulette, Live Dealer Roulette, Spingo

US

FR

NO

0.28%
1.15
JackpotCity Casino JackpotCity Review
Video Poker
Jacks or Better, Deuces Wild, Tens or Better, Double Bonus Poker and Joker Poker

ES

CA

NL

0.46%
4.42
Spin Palace Casino Spin Palace Review
Baccarat
Punto Banco (American), Chemin de Fer, Baccarat en Banque, Super Pan 9, Three Card Baccarat, Live dealer baccarat

JP

RU

SE

1.06%
0.93
888casino Casino 888 Casino Review
Keno
Power Keno, Super Keno, Combination Keno, Video Keno, Way Keno

AR

BR

ES

25%-29%
1.30-46.04
Betfred Casino Betfred Review
Bingo
90 Ball Bingo, 80 Ball Bingo, 75 Ball Bingo, 30 Ball Bingo, Progressive Bingo, Coverall Bingo

UK

IE

IT

–
–
Betfred Casino Betfred Review
* T&C's apply; Visit the casino for details
How to play online casino slots
Slots appeared back in the mid-1990s when they were basically a few reels and one payline. Today, it's possible to play casino slots online that have 3 or 5 reels and some that have more than 1,000 paylines. All of them work in much the same way but there are some very subtle differences.
Check the payout table – The first thing you need to do before placing a wager is to check the payout table and find out as much information about the game as you need to know. There is generally a 'paytable' or 'info' icon you can click on that will bring up a separate screen. In it you'll see the various payouts for the different combinations, a list of the different symbols and whether there are any bonus rounds. You might also find a theoretical figure know as the RTP or Return to Player percentage, or the payout percentage.
Set your bet sizes and paylines – The best casino slots online allow you to set the bet sizes and number of paylines you want to play. If it's a lower variance game you've chosen to play the bets will start from as little as $0.01 per line. This type of game is aimed at those with a smaller budget. Once you've chosen the size of your bet you can then decide how many coins you want to bet on a particular line. It could be anything from 1 to 10 per line. Next decision is how many paylines you want to play. Choose one or more by clicking on the paylines down the side of the gamescreen. There might be a maximum bet button you can choose. And you should also bear in mind that there will be online casino slots with fixed paylines giving you no choice in how many paylines you can play. You might have to payout more over time but the chances of you hitting winning combinations will be greater. Once you've set your bet sizes and paylines it's simply a case of clicking the 'spin' button.When the spinning reels come to rest the winning combinations will be paid out. One more feature worth mentioning is the gamble or double up button. Some real cash slots allow you to choose whether you want to double your winnings.
Winning combinations are usually from left to right but don't forget about Scatters and Wilds – Symbols that pay are usually in a line from left to right. Video slots, on the other hand have special images or symbols that can result in bigger prizes. A Wild symbol can be used to substitute for regular symbols in order to create a winning combination. Wild icons also have a multiplier attached to them which means the win could be doubled or even trebled. Scatter symbols are a little bit different in that they can pay out if two or more are hit anywhere across the reels. A bonus feature many be triggered if three or more Scatters appear on the reels.
The best casino slots online include bonus rounds – When you play slots at some of the top online casinos you can expect to trigger a bonus, either by hitting three or more Scatters or bonus icons on the reels. It's usual for these bonuses to take the form of a straight free games win. It could be anything from 3 to 50, depending on what the computer decides. And it's also possible to retrigger the bonus, for example, if you hit three more Scatter icons. A Pick 'em Bonus is another possibility and occurs when you hit three Scatters. A separate game screen will appear and you'll have the option of choosing from a selection of symbols, each with its own prize or multiplier. Whatever the theme of the slots game, the symbols/icons will match. You won't be able to return to the base screen until you hit the 'Collect' icon. Your wins will then be added up and credited to your bank. A Click Me Bonus is triggered when three bonus symbols appear at the same time and you get to choose from three icons on the reels thereby revealing your prize. There are a number of other bonuses you might encounter but these tend to be unique to certain developers and their own exclusive games. All sounds pretty simple really. The difficulty comes in picking the best online casino for slots and choosing from the vast array of titles that will be available. There are also new online casino slots being launched almost every day which just adds to the pressure when trying to make the best decision. We promised you some tips to help improve your game so let's share a few relating to playing casino online slots.
Our top tips for playing casino online slots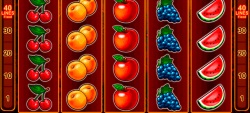 Bet the most you can afford – When you do this we've got to warn you that it'll feel really wrong and completely counter-intuitive. However, there is method in this madness because betting more paylines will give you more opportunities to win. It's also more likely you'll trigger the bonus rounds. Choosing to play the classic 9-payline slots can be a lot of fun but it will get boring after a while. 20-30 payline games will be much better in the long run.
Check the RTP% – If the online casino has been kind enough to give you the RTP% take note of it and aim for new online casino slots with more than 95% if possible. Lower payout games, such as those with an RTP of 91% or even lower just aren't worth the time and effort, unless you're really stuck on a particular theme.
Mix up your selection of games – Rather than pick just one casino online slots game, choose a portfolio of say three or four. Include one with a good free spins bonus, one with lots of Wilds, one progressive jackpot game and one low-variance game. Mixing it up a little and alternating play between them all will give you a better feel for the different games available. New online casino slots are launched on a regular basis to help keep things fresh.
Is there a strategy worth adopting when it comes to playing slots?
Anyone who's interested in online gambling is going to be interested in ways to improve the odds of winning. They aren't all that high at the best of times so any kind of improvement is bound to be welcome. That being said, unfortunately there's not really a strategy you can use when it comes to playing online casino slots but you can help by choosing the right online slots games to play. As a general rule of thumb, the slots with a wealth of bells and whistles are going to be the ones with the lowest payback percentage. Progressive jackpots are a prime example. They tend to have a lower payback percentage than the bog-standard fixed jackpot. This is because the increasing jackpot needs to be fed and it's the unsuspecting players looking to win a huge pot that are feeding it. A tiny percentage of every bet made goes into the pot of the progressive jackpot. Bonus features and wild symbols also have to be paid for and this tends to be from a lower payback percentage. We should point out, however, that in the long run it doesn't really matter. Games with a better payback percentage are still going to break you if you keep playing them. The difference will be in how long it actually takes. It's even possible that your money will last longer if you choose to play a casino slots game online with a lower payback percentage because of short term variances that can come into play. On the whole, traditional 3-reel slots that have a fixed jackpot will have higher payback percentages. It might have been Microgaming that claims responsibility for the rise of online casino games but in the slots category there are a number of software developers that are keeping things fresh, new and exciting.
The top software companies and the online slots games they've brought to the table
Microgaming – It was Microgaming that launched the first ever online slot way back in the 1990s. Ever since then this world-renowned company has been leading the way and helped to make casino slots online one of the most popular areas of online gambling. It's big name status has allowed it to tie-in with some of the latest blockbuster movies such as the Dark Knight. Along with offering some pretty generous progressive jackpots such as Mega Moolah. It's also the name behind one of the most popular online slots titles: Thunderstruck.
Playtech – Playtech is another big name in the world of slots online and has managed to obtain tie-ins with the latest Marvel comic heros. Some popular titles are Hulk, Wolverine and Iron Man 2. Another reason for this company's success is the multi-layered bonus rounds it offers to players.
Gamesys – The initial success of Gamesys software came from the online bingo market and it was the first to launch a social gambling game on Facebook called Friendzy, more than 5 years ago. The online casino slots this developer offers are low-volatility and suit players with small pockets.
IGT – IGT is better known for its connection with land-based casino slots but online versions of its games have nevertheless proved to be very popular. Da Vinci Diamonds, Rainbow Riches and Cleopatra are the most popular titles it has released and can be found at most top online casinos for slots.
OpenBet – OpenBet offers some top rated online casino and betting sites and has been operating since the beginning. The menu of slots it offers is outstanding and there are some very appealing tie-ins. For example The Price is Right, Who Wants to be a Millionaire and X Factor to name just a few.
Our Favourite Online Casino Games
Cryptologic – This software has won countless awards and has dedicated itself to providing top quality customer and player experiences. Its a respected and trustworthy slots provider with some of the most popular slots as part of its repertoire. It also boasts some superhero tie-ins such as Superman, Wonder Woman and the Amazing Spider Man.
We'll finish up this page on slots games online by sharing a few bits of trivia. You never know when these useful facts will come in handy.
5 bites of slots trivia you might want to know
Mobile gaming has taken the world of gambling by storm and its rise in popularity means that the number of online slots games you can play using a mobile device is increasing at a steady pace.
Classic slots were played on a machine that was also known, and is still known today, as a fruit machine. In order to get around prohibitive gambling laws the machines used to dispense flavoured chewing gum and that's how they got the name 'fruit machines' and feature fruit symbols like plums, lemons and cherries
Movie tie-ins are common place in the world of online slots. Cryptologic has gained a good reputation on the back of some of its Marvel Superheroes slots such as Hulk and Iron Man 2. However, Disney recently cancelled the Marvel slots tie-ins in an effort to distance itself from the gambling element of the games.
Progressive jackpots don't get won very often but when they do the possible prize money could run into the millions.
Microgaming introduced the first slot game in the middle of the 90s with a very basic games using three reels and one winning payline.
Congratulations on getting to the end of the page. If you like what you've read and found it useful you're well on the way to playing your first online slots game. We've shared all you need to know in order to begin your journey. If you still not sure whether this is the right path to follow, click onto some of our other pages. There are plenty more games to choose from and we'll be sharing all the important information.