Before You Roll the Dice – Read our Guide to Playing Online Casino Craps
Not the snappiest of names for an online casino game, but it doesn't seem to have held it back in the popularity stakes. The game involves rolling a pair of dice and betting on the outcome. As well as being played in land-based and online casinos it's also become very popular as a street game. Probably because very little is required to play the game in the way of equipment. All that's needed is a pair of dice and some other players, preferably with money in their pockets.
There are several theories as to the origin of this popular game – casino craps online
As with many other online casino games, there are several theories as to the origin of craps. It's most likely to be yet another casino game that's developed over time and a little bit of all the theories are involved in its creation. Some believe it to be based on an Old English game called Hazard and a French game called Crabes. It was introduced to the gamblers in America around the turn of the 18th and 19th centuries.When a Louisiana gambler and politician named Bernard Xavier Phillipe introduced it to the New Orleans gambling fraternity. Unfortunately, this particular game could be easily manipulated and players were able to fix the dice to cheat and thereby push the odds in their favour. An updated version of the dice game was created in 1907, by a guy called John H Winn and it included a "don't pass bet" area that made it much more like the game of craps we know and love today. It also served to fix the dice problem.
Best Online Casinos to Play Craps
| Rank | Casino | Top Games | Bonus | Software | Mobile APP | Visit Casino |
| --- | --- | --- | --- | --- | --- | --- |
| 1 | 888 Casino Review | Elvis, Zeus, Ultimate Genie, Pirates Millions, Casino Reels, Dino Jakcpot Stampede | £888 No Deposit Bonus | Electracade, 888 Gaming, GamesOS/CTXM, IGT | yes | Get Your Bonus 888 Casino Review |
| 2 | Ruby Fortune Casino Review | Jurassic World, Beautiful Bones, Fortune Girl, Empor of the Sea, Fruit vs Candy, Classic 243 | €750 FREE Welcome Offer | Microgaming | yes | Get Your Bonus Ruby Fortune Review |
| 3 | Jackpot City Review | Live Blackjack, Live Baccarat, Live Roulette, Agent Jane Blonde, Cash Splash, Hitman | $1600 Free Sign-Up Bonus | Microgaming | yes | Get Your Bonus JackpotCity Review |
* T&C's apply; Click on Get Your Bonus for details
Online casino craps is one of the easiest games to learn
Find the right place to play the best online casino craps and you're onto a winner. It happens to be one of the easiest games to learn and as well as playing using a desktop it's possible to play using a range of different mobile devices for the mobile versions of the game. The basic betting is simple, as in there are only two basic wagers you need to worry about when you first start playing craps at an online casino. They are the "passline" and the "don't passline" bets. We should probably mention, however, that there actually more than 40 other craps bets but to begin your adventure at an online craps casino the two most basic are the best place to start. Over time you'll get to master the others but for now it's better to keep things uncomplicated. As you get a deeper understanding and maybe pick up some useful casino craps tips, you'll be in a much better position to take advantage of the more complex betting options.
This is basically an even money bet. In other words, the amount you bet is the amount you also stand to win. If you're the player whose turn it is to roll the dice you're referred to as "the shooter". Before you roll your first dice, otherwise known as the "come out roll", other players have the opportunity to make a passline bet on the outcome of your come out roll. In order for them to win their bet your roll must reveal a 7 or 11. These rolls are known as a "natural". Rolling a natural automatically doubles the passline bets of other players. If, on the other hand, the shooter's come out roll results in a 2, 3 or 12, which is referred to as "craps" the other players will lose their passline bets. If any other number is rolled, as in 1, 4, 5, 6, 8, 9, or 10, it becomes the "point number" and the shooter will then try to roll that point number again for the win, before a 7 is rolled. If a 7 is rolled, the passline bets lose.
What is a "don't passline" bet?
This is the reverse of a passline bet. In other words these bets are a gamble against the dice. It's also referred to as "betting wrong" and the passline bet is also called "betting right". When you make a don't passline bet you're betting to roll a 2, 3 or 12. If it's a come out roll, a winning don't passline bet doubles your wager. If any other number is rolled, it serves as the point. However, with this bet you're hoping that the point won't be rolled again before a 7. If a 7 is rolled the don't passline bets win. There are a number of other craps bets you'll need to know eventually. But for now this is more than enough to learn and the easiest for beginners.
Understanding how to play craps at an online casino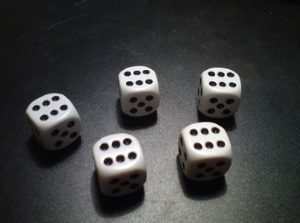 The first thing we should say to you is that playing the best online casino craps is not as difficult at it first looks. It's a basic online casino game, but the table makes it look more complicated than it is. So let's start there by giving you the lowdown on how it works, because when you first look at a craps table you're seeing double. It's designed so that two people can play at the same time, one at each end. The game itself can be broken down into two phases. The Come Out Roll phase and the Point phase. The first part of a real cash craps game is the Come Out Roll phase and this is when you place your bet on the table. You can choose to either Pass or Don't Pass. We've already explained both of these wagers a little further up the page. For now we're going to continue with some other terms you need to learn. We will have mentioned some of them right here on this page but thought it would be good to provide you with a comprehensive glossary.
Come – here is where you can place bets after the Come Out roll, and you're betting that the dice will pass.
Don't Come – just the same as the Come bet but the opposite
Field – this particular type of bet allows you to bet on the number you think will be rolled, whether its a 2, 3, 4, 9, 10, 11 or 12
Place bets – look out for the numbers 4, 5, 6, 8, 9 and 10 and then place your bets on these numbers. If your number is rolled before a 7 it'll be your lucky day
Any Seven – this is a wager that the next roll will result in a 7 and many consider it a sucker bet and best avoided
Back Line – a slang term for the Don't Pass Line
Bankroll – cash or chips that a player has available for playing craps with
Betting Right – betting on the Pass or Come which basically means you aren't betting against all the other players
Betting Wrong – betting on the Don't Pass or Don't Come wagers and is considered unlucky or inconsiderate by other players
Bones – a slang term for the craps dice
Cold Table -this is a table where all the players who are betting right are losing frequently which could be due to either rolling craps or sevening out after the come out roll
Come Bet -very similar to a Pass Line bet but made after the come out roll
Come Out Roll – this is the roll of the dice that begins the round
Front Line – a slang term for the Pass Line
Hot Table – this is a table where the players who are betting right are winning frequently
House Edge – a statistical representation of the casino's statistical advantage for any given wager
Lay Bet -a bet that a seven will be rolled before the point
Natural -this happens when the result of the come out roll is a seven or eleven and results in a win for Pass Line wagers and a loss for Don't Pass Line bets
One Roll Bets -a bet made on the result of the next roll
Place Bet – a bet that wins when a specific number is rolled before the round ends

Min. Deposit:

€10

Payout Ratio:

97%

Rating:

5/5

Min. Deposit:

£5

Payout Ratio:

94,68%

Rating:

4/5

* T&C's apply

Point – the number that's set on the come out roll
Roll Craps – rolling a 2, 3 or 12 on the come out roll
Seven Out – when the shooter rolls a seven before the point and results in a loss for the Pass Line bets and a win for the Don't Pass Line bets
Shooter -the player that rolls the dice
We've pretty much covered the basics so how about we share some casino craps tips and look at whether it's worth adopting a strategy.
Tips and tricks for playing craps at an online casino
It's very likely that a number of you reading this will be very tempted to give online craps a go. And why wouldn't you? It's a lot of fun and you can keep the house edge relatively low if you make the right bets. We've already shared the basics of betting and as you get more experience under your craps belt you'll master plenty of different bets along the way. There's very little strategy involved because it is after all, a game of chance. But you can decide on the level of risk you're prepared to take. Which will ultimately affect your chances of winning. What follows are some tips to help you get the most out of playing craps. The tips are aimed at the beginner but that doesn't mean all you experienced players shouldn't take heed of our advice.
Craps is supposed to be an enjoyable game so make sure you enjoy it
This is possibly the most important piece of advice we can share. It can be fun whether you win or lose if you approach it with the right attitude. You're bound to want to win but brace yourself for the inevitable losses as well. If you hit the tables expecting to win it's very likely you'll come away disappointed, let the fun of the game be your focus and only play with money you can afford to lose.
Familiarize yourself with all the different bets
We've already introduced you to the simplest of the bets, and you'll still be able to have enjoyable games if you go no further. However, you'll be in a much better position and be able to make more informed choices if you're aware of all the different wagering options.
Our Favourite Online Casino Games
Choose a level of risk that suits you
Craps is inherently a game of chance and there is very little strategy involved. There's absolutely nothing you can do that will affect the outcome of the roll of the dice. It's all in the lap of Lady Luck. it is possible, however, to affect how likely you are to win and how much you can win by deciding on the level of risk you're prepared to take. The best advice is to take a low risk approach and only play the bets that have a low house edge. You'll be maximizing your chances of winning. For this approach you need to be placing pass line bets, don't pass bets, come bets, don't come bets and odds bets. Is there anything wrong with placing high risk bets? Not if that's what you want to do. Bets with a high house edge, such as proposition bets, aren't widely considered to be the best way to go but it'll make the game a whole lot more interesting. Don;t be afraid of taking bigger risks because you stand a chance of winning bigger payouts. Just make sure you weigh up your options carefully.
Familiarize yourself with the possible dice combinations
As well as learning the different types of bet it's also a good idea to learn the chances of each value being rolled. Some values are more likely than others. Knowing the chances of each value being rolled is important because it affects the chances of any particular bet winning. As an example, you're more likely to win on a six being tolled than on a two being rolled.
Be disciplined
This is a rule that applies whether you're playing casino craps online or any other online casino game. Never get carried away and start betting like crazy. You might think you're on a winning roll but that can all too quickly come to an end. Stay in control or you might find you've got nothing left to play with and that will be the end of your fun.
Other Online Casino Games
Game
Types
Most Played Where?
House Edge
Sandart
Deviation
Recommended Casinos
Slots
Video Slots, Bonus Slots, Retro Slots, Fruit Machines, 3D Slots, Progressive Slots

US

UK

CA

2%-15%f
8.74g
888 Casino 888 Casino Review
Roulette
American Roulette, European Roulette, French Roulette, Multi-Ball Roulette, Multi-Wheel Roulette, Live Dealer Roulette, Spingo

DE

CH

AU

2.70%
e
Ruby Fortune Casino Ruby Fortune Review
BlackJack
American Roulette, European Roulette, French Roulette, Multi-Ball Roulette, Multi-Wheel Roulette, Live Dealer Roulette, Spingo

US

FR

NO

0.28%
1.15
JackpotCity Casino JackpotCity Review
Video Poker
Jacks or Better, Deuces Wild, Tens or Better, Double Bonus Poker and Joker Poker

ES

CA

NL

0.46%
4.42
Spin Palace Casino Spin Palace Review
Baccarat
Punto Banco (American), Chemin de Fer, Baccarat en Banque, Super Pan 9, Three Card Baccarat, Live dealer baccarat

JP

RU

SE

1.06%
0.93
888casino Casino 888 Casino Review
Keno
Power Keno, Super Keno, Combination Keno, Video Keno, Way Keno

AR

BR

ES

25%-29%
1.30-46.04
Betfred Casino Betfred Review
Bingo
90 Ball Bingo, 80 Ball Bingo, 75 Ball Bingo, 30 Ball Bingo, Progressive Bingo, Coverall Bingo

UK

IE

IT

–
–
Betfred Casino Betfred Review
* T&C's apply; Visit the casino for details